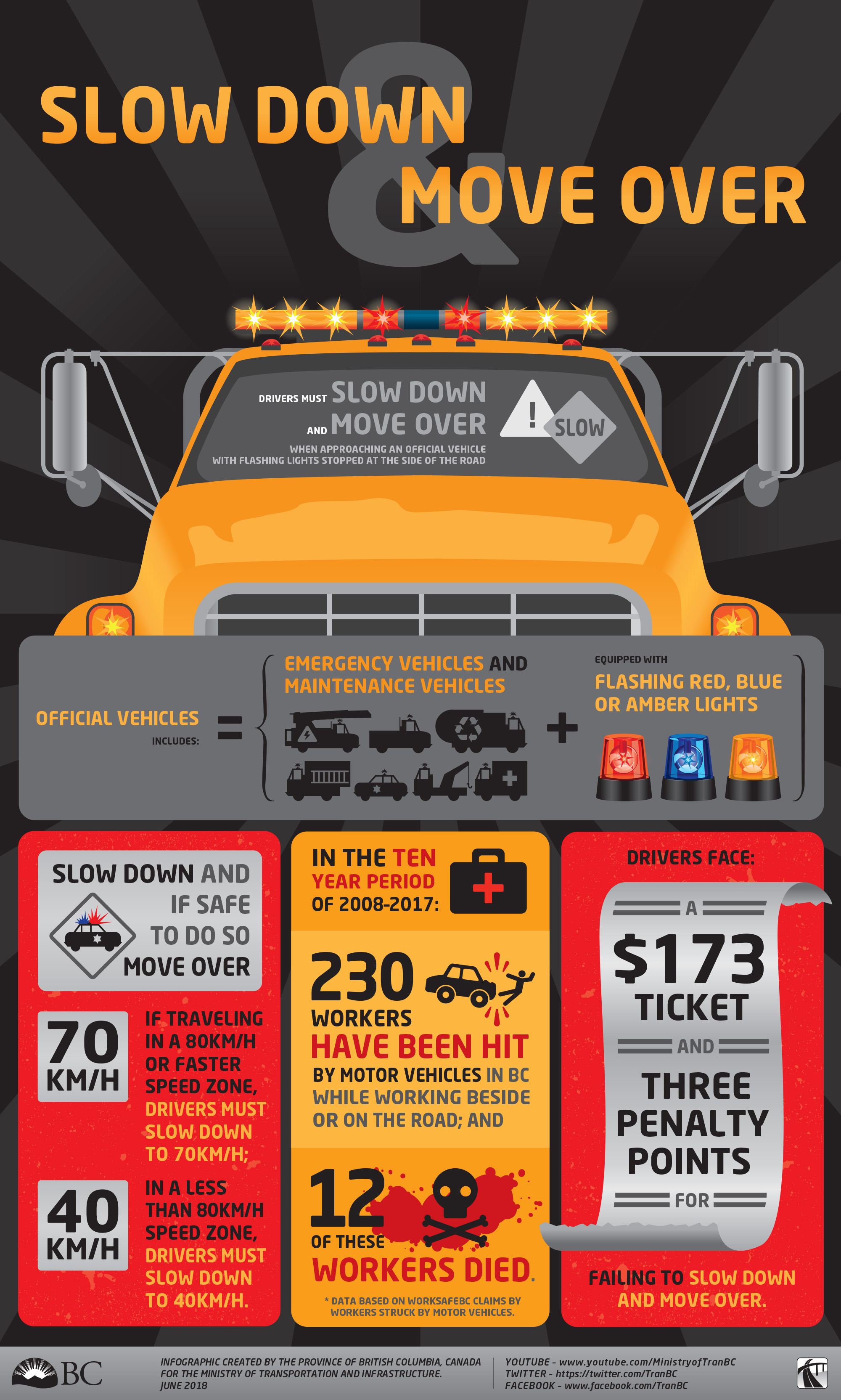 One of the things that irritates me about life in the 21st century is the constant evolution of laws and regulations designed to improve public safety, and protect people from unsafe practices. In 2018 the British Columbia government changed traffic laws related to how drivers are supposed to react when seeing flashing lights at the side of the road or highway.
I thought I knew the laws regarding flashing emergency lights or a siren from an emergency vehicle. I always do my best to move over to the side of the road, and generally get out of the way of an emergency vehicle when I see one coming up behind me in traffic. I had no idea that my obligations as a driver far exceed this simple behaviour. I always intend to obey traffic laws, within reason, and within safe driving practices on the road. But this new law catches me by surprise, although perhaps it shouldn't.
Overview
In British Columbia, motorists are required to slow down and move over for all vehicles stopped alongside the road that have flashing red, blue or yellow lights. This includes maintenance workers, utility workers, police, fire, ambulance, tow trucks, Commercial Vehicle Safety Enforcement personnel, land surveyors, animal control workers, garbage collectors and other roadside workers.

Motorists must slow their speed to:
70km/h when in an 80km/h or over zone

40km/h when in an under 80km/h zone
If travelling on a multi-lane road, drivers must move into another lane to pass when passing stopped vehicles with a flashing light, where safe to do so. This provides roadside workers and emergency personnel with greater protection from accident and injury.

Rules and Penalties

Drivers failing to adjust their speed or failing to move over may receive a $173 traffic violation ticket that also carries 3 penalty points. Offences and infractions that include penalty points can lead to a driving prohibition.
This really sucks! Truthfully, when the young police office pulled me over I genuinely thought he was just being an ass, and had pulled me over for no real reason, just to be a smart mouth, not because I had committed an offense. I was so sure he was wrong I told him that I would meet him in court, and fight this wrongful ticket, which will cost me $173 and add three points to my driver's license.
Unfortunately I was totally in the wrong, in this case, and the young whippersnapper police officer was totally right. So I guess I'll hang my head and admit that I'm wrong about this, and just pay up.
But that doesn't actually resolve the issue for me, because it begs the question as to how many other traffic laws have changed without me noticing. How many other people have missed out on knowing the changes in regulations and laws, which could cost them money, and perhaps put other people at risk because they don't know the law.
There are thousands of new laws and regulations brought into effect in every jurisdiction every year. How in the hell does anybody know what's illegal or not. Even if you spend every day in the library studying legislation and regulations you still wouldn't know all of the important laws, let alone the minor irritants and misdemeanors.