People who have been abused as children have a really hard time as adults, especially as young adults trying to formulate romantic relationships. Without a solid foundation established early in life, emotions can feel like quicksand and you soon feel like you are drowning. People become desperate for love and accept all sorts of inappropriate behavior that seems like it must be some kind of love, or it wouldn't be so intense. So this is the story of one such person, after an abusive and destructive marriage
Even after years of counseling, he still feels the desperate self-criticism of his youth, pulling him back into depression and suicidal thoughts. At the end of his first marriage, he actually tried to kill himself by sleepwalking in front of a bus
The transit bus driver drove his bus into the side of a building to avoid hitting the patient, most likely saving his life.
He went to see a doctor after this because he felt that he was in danger because of his actions. He consciously knew that he was a danger to himself and potentially others, but so deeply depressed about losing his wife that he was wandering around in a complete daze.
This was despite the fact that the relationship was fundamentally dysfunctional, and she used and abused him virtually every day from the very first moment he laid eyes on her. His self-worth was so low that he actually believed that everything that ever went wrong was his fault. He allowed himself to be her emotional and physical servant, charged with somehow making her feel good about herself.
Although she was highly intelligent and won many academic awards she required constant affirmations of her intellect, and couldn't accept any opposition to her opinions on any subject at all. To whatever degree he differed from her point of view, she called him out and accused him of trying to undermine her and make her look like an idiot to their friends or families. He also took on responsibility for taking care of every aspect of her life, including paying all the bills, providing her with funds to pay for her advanced education, and a constant stream of extravagant gifts. Their life together was one of extraordinary social adventures, with a stream of her unusual friends variously moving into and out of their home and their lives together.
They were together for nearly ten years and had a daughter. Their divorce was highly acrimonious and as a result of an emotional breakdown, she intimidated him into giving into virtually all of her demands, including extremely restrictive access to their infant daughter, who is now almost forty years of age.
Because of his blindness to her faults and unwillingness to acknowledge her abusive behavior, He simply was not in any position to provide adequate co-parenting to their daughter, who ended up with her being physically, emotionally, and sexually abused by his ex-wife and her mother, who had previously done the same things to his ex-wife.
It wasn't until their daughter ran away from her mother's house to live on the streets that he became aware of all that she had gone through in her mother's care.
The daughter suffers from multiple psychological disorders including acute anxiety disorder, bipolar disorder, PTSD as a result of multiple sexual assaults starting with her grandmother as early as five or six years old. After she ran away, at thirteen years old, from her mother's home when she came to live with his current partner and him. It was only then that he heard her story and got her into counseling. The road was very difficult, and they were not very successful in helping the daughter overcome her many conditions.
Never in all the years he had been married to his ex-wife did he realize how destructive her constant personal attacks and total narcissistic behavior had been to him. After he more or less recovered from his breakdown and hospitalization after their marital breakdown, he still blamed himself for everything that had gone wrong in their marriage.
But no more. His daughter suffers from many psychiatric and emotional defects, some of which would have been there no matter who raised her as a young child. She also has many physical disabilities including muscular and skeletal problems that have resulted in her living life in chronic pain, and incapable of independent mobility. She also had two children, which he had to have taken from her because she is incapable of providing the minimum care level necessary for their physical and emotional health. He doesn't blame his ex-wife or her mother for all of it, as it would unfair to do so.
But what is fair to say is that without the abuse by her narcissistic mother and a grandmother who barely survived Nazi rule in Holland as a young girl before abusing her own daughter and granddaughter, their daughter didn't have a chance at any reasonable life. Despite years of counseling himself, He still knows that he has blinders on regarding his ex-wife and still has hard time understanding what he allowed to happen in his marriage, or what really took place in all the years she had total control over their daughter's care and custody.
He had even blamed himself for that restricted access, and his lack of involvement in his daughter's life. The extreme anger his ex-wife expressed towards him made a more normalized co-parenting arrangement impossible. Even spending thousands of dollar on legal fees trying to get better custodial arrangements failed.
If you are a survivor of an abusive relationship and have gotten out, don't try to deal with this all on your own. Find a good counselor and make every effort to deal with your own demons before they drag you into yet another dangerous quagmire.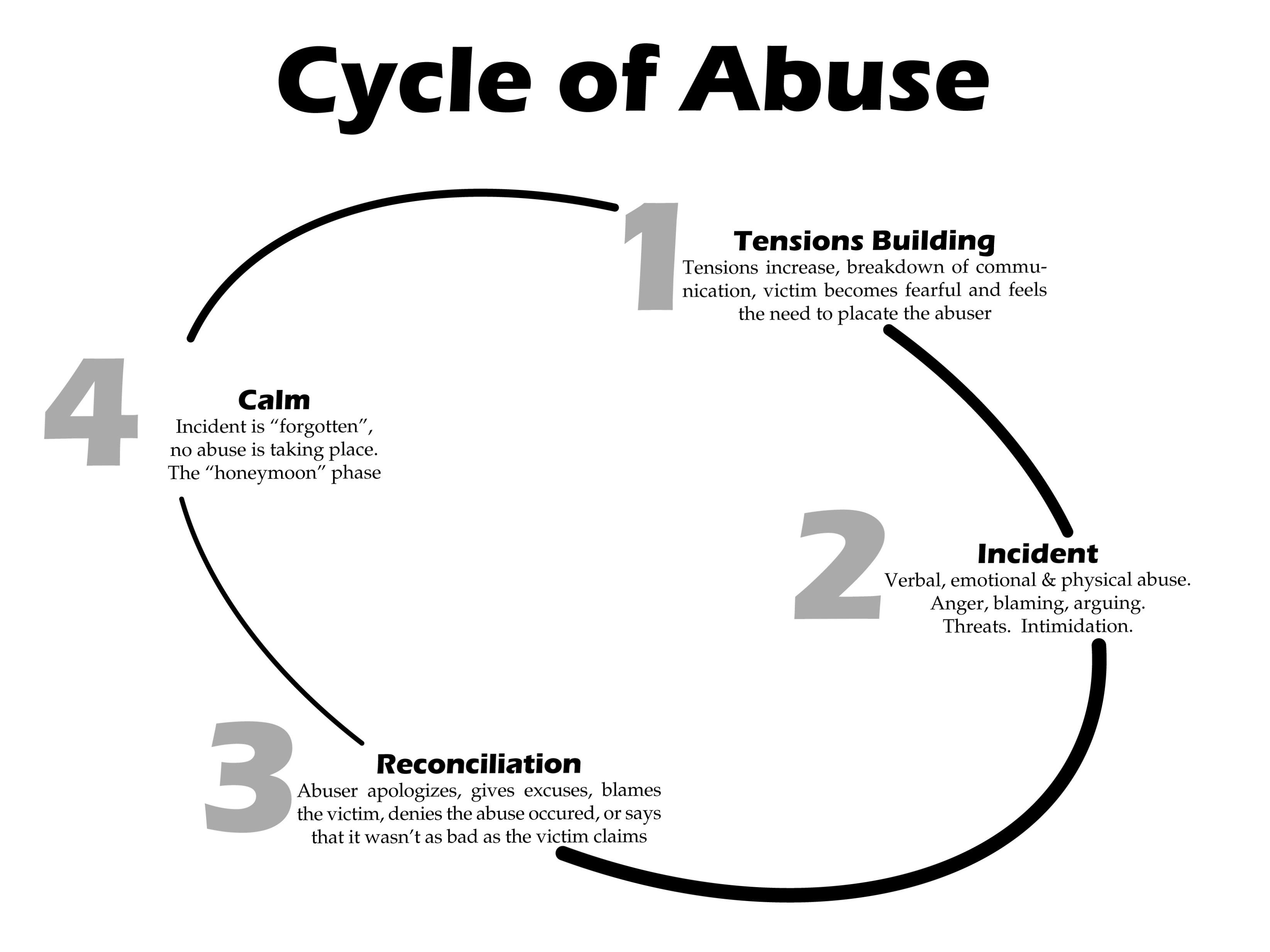 Unfortunately, you may find yourself repeating your mistakes, over and over again. Learn to recognise the cycle of abuse in your own life, and take action to change your circumstances. Leave.